Saginaw Children's Zoo x DJs For Climate Action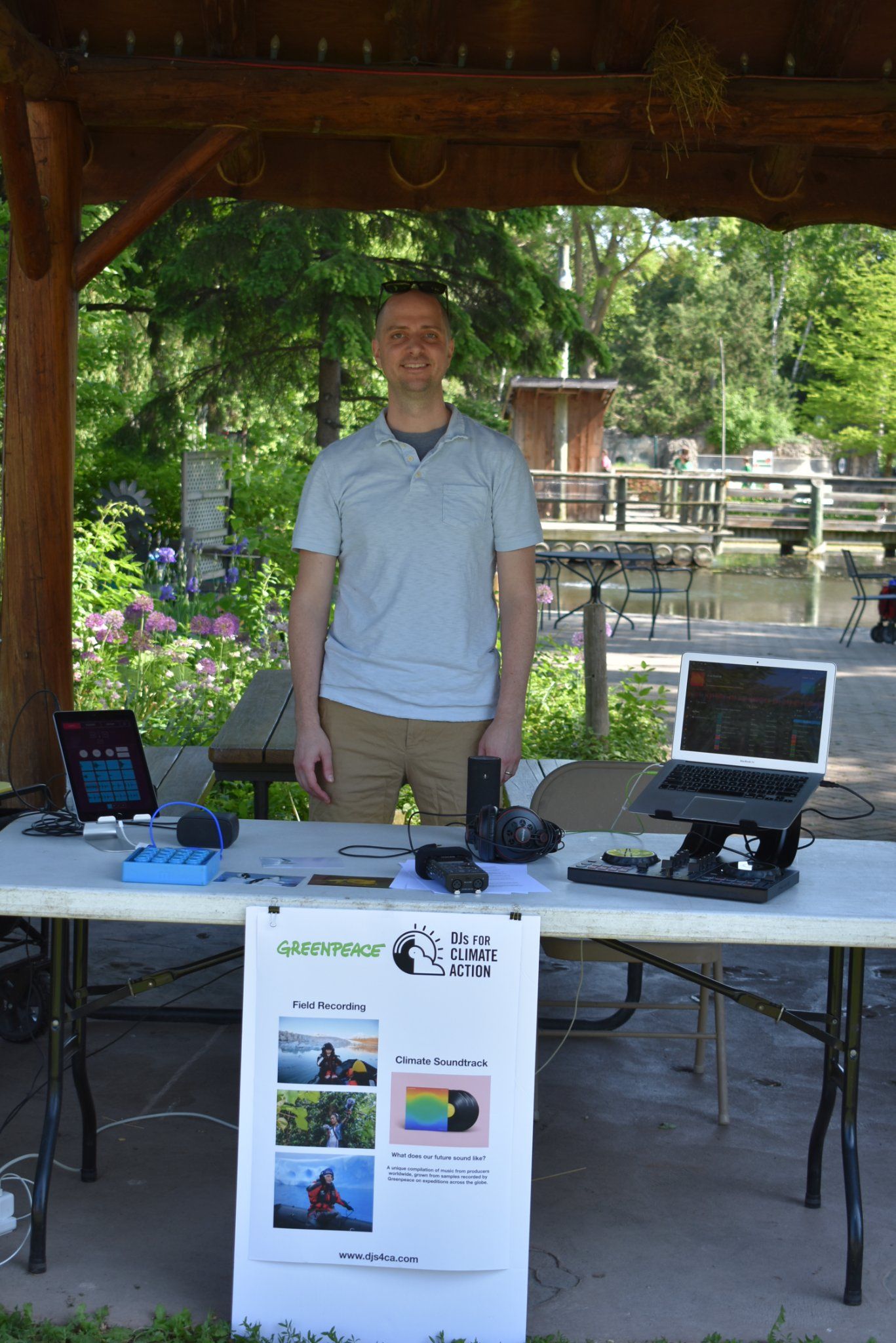 On May 31st, over 400 staff and students from Saginaw Arts & Sciences Academy, a magnet school for gifted talented students grades 6-12, visited the Saginaw Children's Zoo for their annual Unity Day celebrations.
In addition to Zoo-led educational activities, Saginaw Bay CISMA, an invasive species education and management cooperative, also joined with an informational table.
Working with DJs for Climate Action, I created an interactive station for students to explore sonic ecology and its artistic applications. This station featured the Climate Sample Pack collaboration with Green Peace and the resulting Climate Soundtrack.
The exhibit included:
Informational Poster
Field Recording Example Display

Handheld recorder and headphones

Environmental Sounds Sample Pad Station

8 animal and environmental sounds
3 printed photos for sound identification
Custom backing beat for musical context

DJ Station

Climate Soundtrack with DJ controller
Informational Poster and Instruction Delivery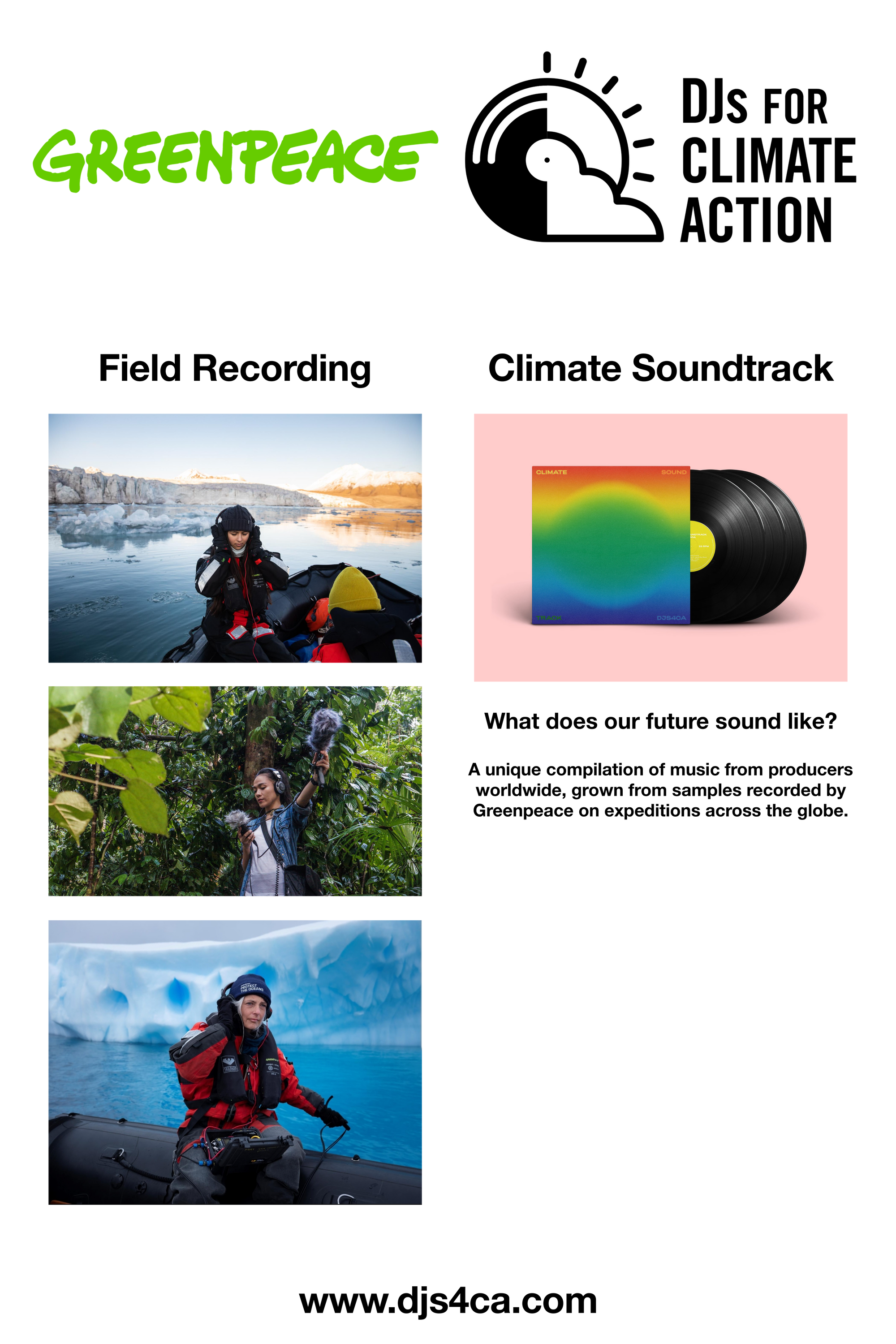 As students approached in groups of 10, I introduced the activities:
A brief background of the sample pack and the resulting compilation album.
A concise description of sonic ecology and field recording supported by photos on the information poster.
Instructions and demonstration of the activity stations.
Immediately after explanations, I led an explorational exercise of playing the environmental sounds and asking students if they could identify and match a given sound to one of the three printed animal photos. Without prior knowledge, this is a guessing game for most individuals. Still, the activity was fun and without much consequence felt for wrong answers.
In between student groups, I intermittently the switched between auto-mixing the compilation songs and looping the [promotional video] on the laptop.
Environmental Sounds Sample Pad Station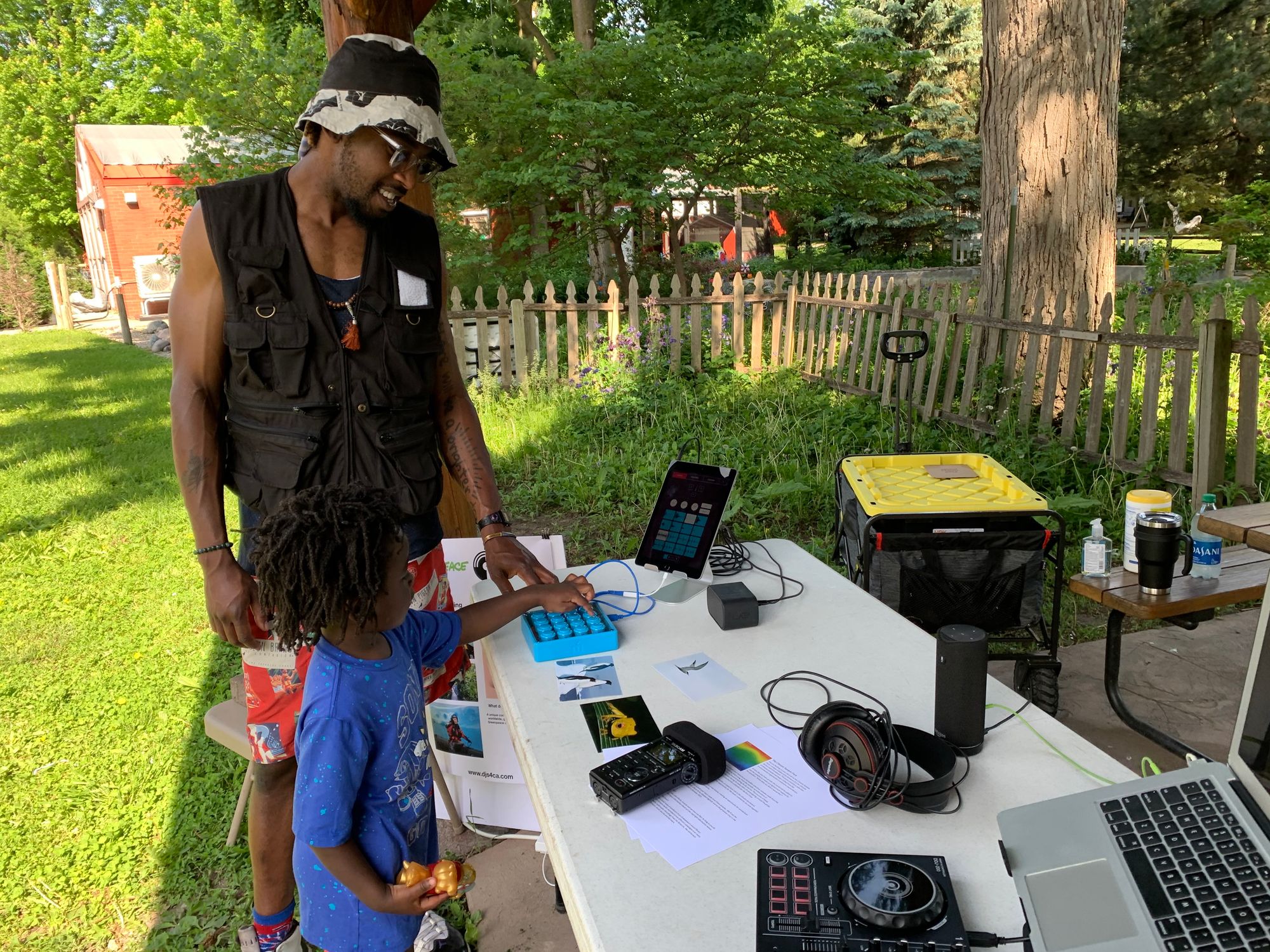 The environmental sounds sample pad station was set up using an iPad, Elf Audio's Koala Sampler, and a MIDI Fighter Classic.  The MIDI Fighter was connected to the iPad via Lightning to USB Camera Adapter. The iPad was held in a stand and sound was played through an aux cable to a portable bluetooth speaker.
DJ Station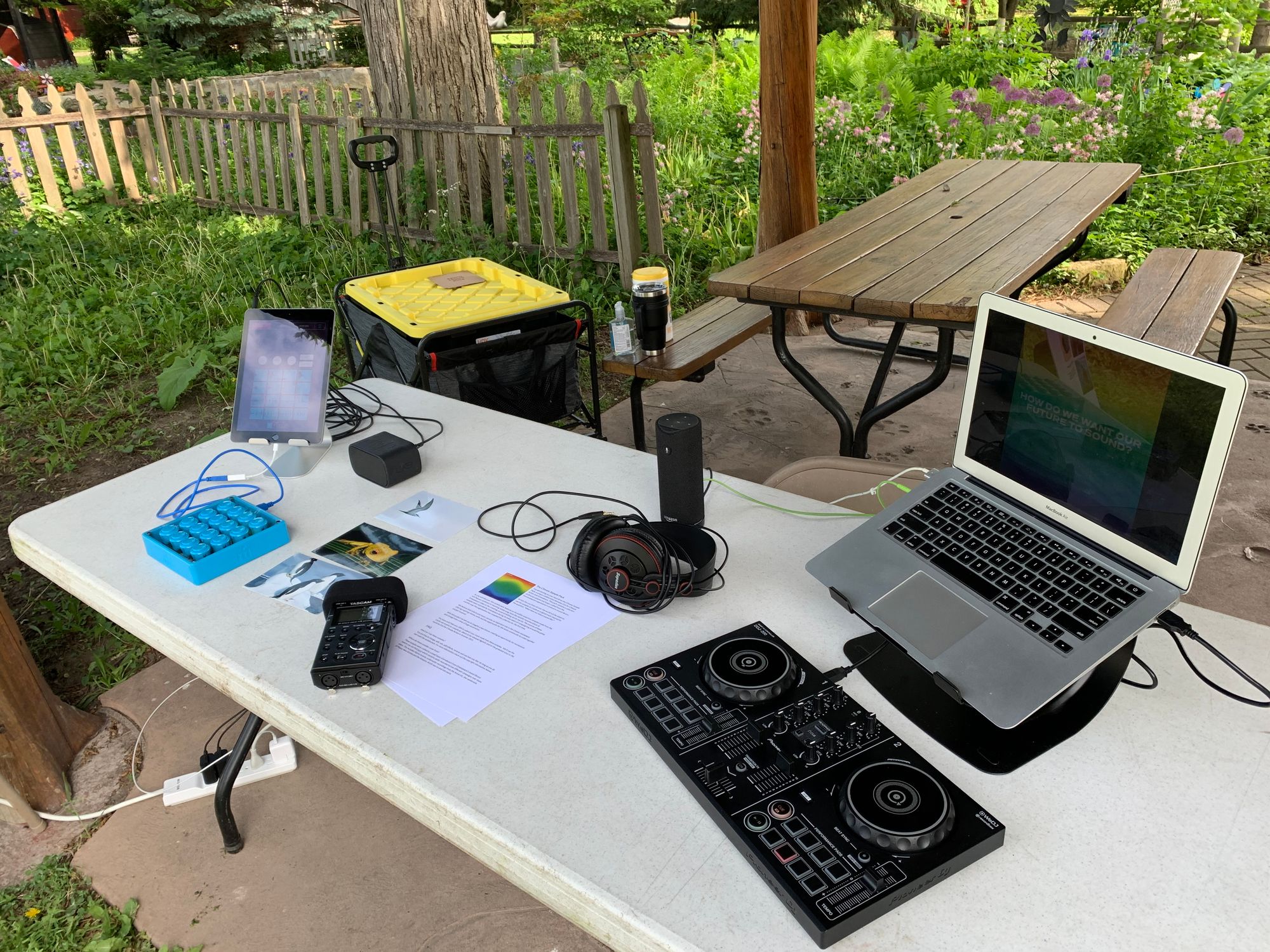 The DJ station was powered by a Macbook Air running Algoriddim's djay and controlled by the Pioneer DDJ-200.  Faders, effects, platters, and start/stop buttons enabled manipulation of the current song(s) playing.
Reflections
I had the suspicion that more tactile music controllers would be more approachable than touchscreens or computers. In observations of interactions this was confirmed.
The MIDI Fighter classic with bright blue buttons was always preferred. Students intuitively pressed buttons, explored, and many progressed to creating their own rhythms, un-prompted.
I was concerned that students might feel apprehensive about experimenting in public by having speakers attached instead of headphones. The headphones were nearby in case of such situations. However, this did not seem to be the case.
The initial design for the DJ Station included the professional DJ software, RekordBox. However, after evaluating the platform, I found Algoriddim's software to offer a more straightforward interface with its skeuomorphic presentation options .
Even though the DJ station utilized an entry-level DJ Controller, students were hesitant to interact unless they had previous exposure to similar equipment. The professional appearance of the tool may have communicated, "do not touch."
I suggest that future installation may not need a DJ station at all. Perhaps a display with only the vinyl album for context would be enough. The laptop could be utilized for the promotional video.
The Lightning to USB Camera Adapter with USB power port would've been helpful as I could've had the iPad charging continuously as the MIDI Fighter interface occupies the charging port.
Power was available, but I wanted to limit the setup complexity and amount of equipment used. Utilizing iPads and battery powered-speakers was helpful. Early designs included powered speakers and a mixer, but after setup, I was thankful I went with a more minimal approach.
The zoo had unique constraints in which sound levels can affect the animals. It was a requirement that sound be kept below 85db, though, quieter was preferred. The speakers could've been louder with a wider sound range, but ultimately they served the purpose well.
The informational poster was professionally printed, but mounting and display were challenging in the windy outdoor setting. In the future, I might consider designing the poster to be laid flat on the table.
The poster included a URL at the bottom for students to visit DJs4CA.com to learn more, listen to the album, or download the sample pack for free. It may have been helpful to make this more prominent with a direct call-to-action on the table: "Visit DJs4CA.com to download the sample pack and make your own song."
A special thank you to Lola Villa for her help in facilitating this collaboration within a very short deadline.